This New Year, I didn't make any formal resolutions. Instead, I opted to make small steps to improve my overall health. One of those steps is eating smaller snack portions.
My kids are great at limiting their meal portions and then gorging on snack foods. I tend to eat big meals and big snacks. Something has to change.
Here are my 5 small steps to decreasing unhealthy snacking:
1.
Limit what you bring into the house
. If there are no cookies or candies, then none will be eaten.
2.
Fill your meals and cart with fruits and veggies.
By planning vegetable filled meals and snacks, there is less room in your day (or cart) for lower quality foods.
3.
Ask yourself if you are truly hungry
. Before you pour yourself a big bowl of something, ask yourself if you're truly hungry or if you're just bored or stressed out.
4.
Eat what you really want
. Sometimes I over snack because I don't eat what I really crave. If I want chocolate, but I eat some crackers, I'm still going to want chocolate and won't stop hunting for snacks until I've found it. Instead of identifying what I really wanted, I end up eating double the snacks.
5.
Pour appropriate portions
. Check out the difference in these two scenarios.
What if I sat down to watch television with this bowl?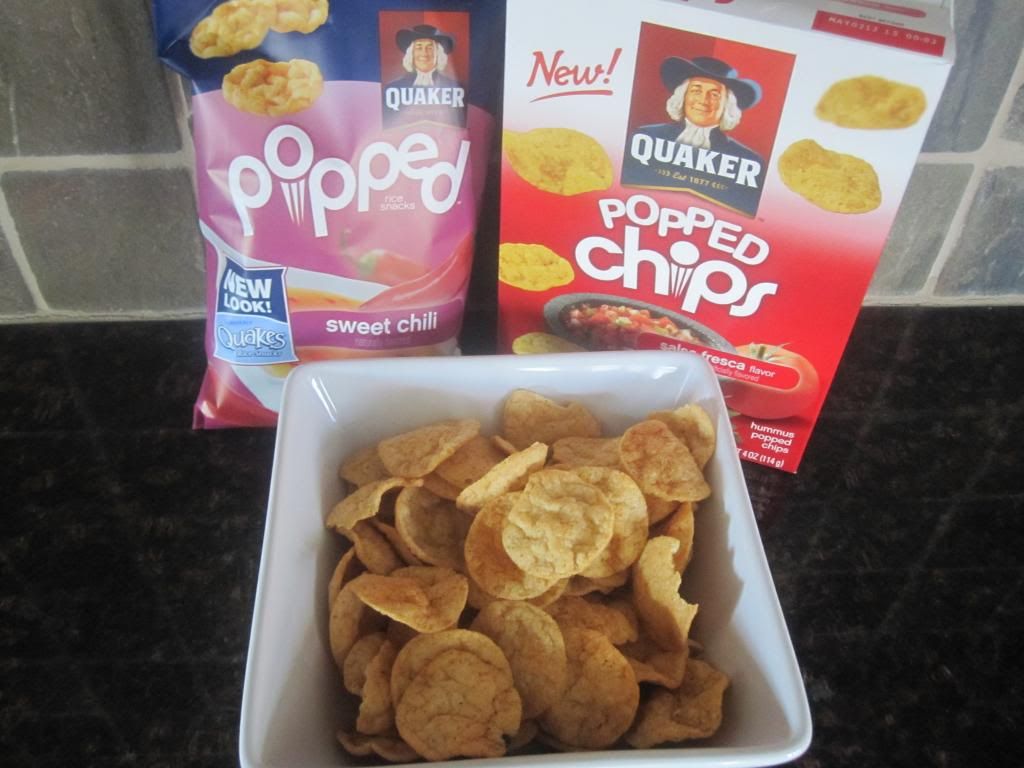 What about this one?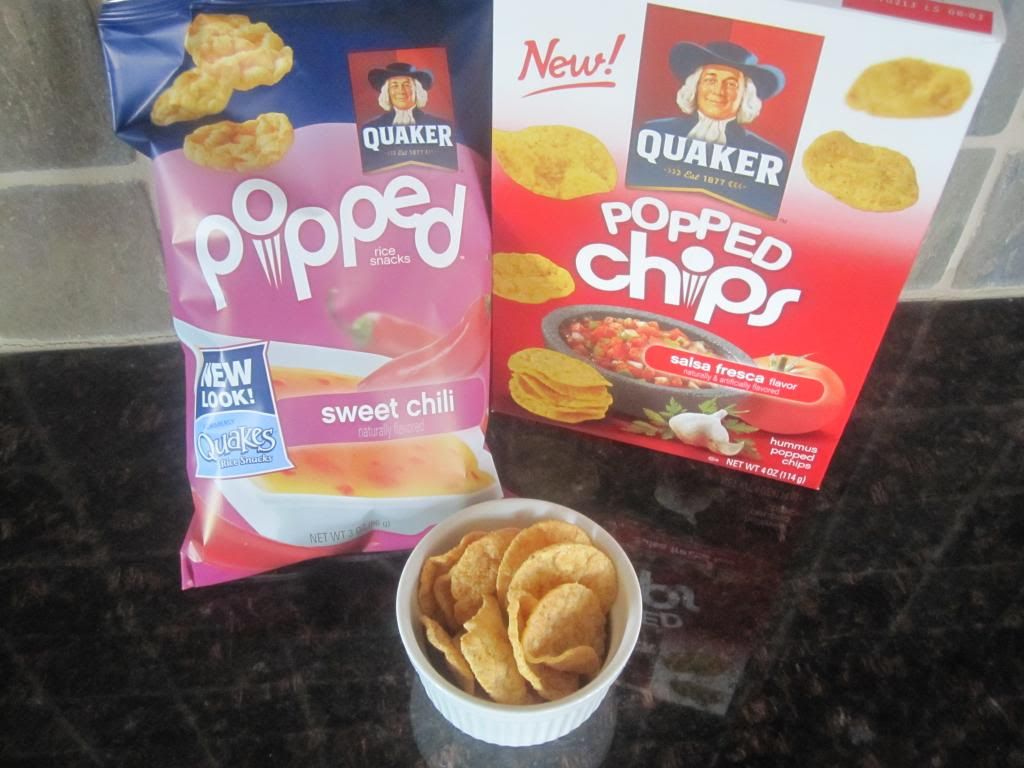 You may have noticed the chips in my bowl are new. They are
Quaker® PoppedTM
rice snacks. They used be called Quakes.
When I first tried these, I really thought they were going to taste like bland rice cakes - diet food, you know. But I was wrong. These taste just like chips or popcorn (depending on the flavors.)
I recently poured myself a bowl of the Salsa Fresca chips and they were fantastic - just like chips and salsa - of course less messy and with different ingredients.
The biggest thing I can say about
Quaker® PoppedTM
rice snacks is that they are very flavorful. Since I typically eat a very plain whole foods diet, the flavors were very intense. Not in a bad way, but in a way that meant I couldn't eat more than a handful without feeling like I had enough. Score one for portion control!
They come in a huge variety of flavors (14!) so you are sure to find one that suits your tastes. You can choose from Apple Cinnamon, BBQ, Caramel Corn, Cheddar Cheese, Chocolate, Kettle Corn, Ranch, Sea Salt & Black Pepper, Sour Cream & Onion, Sweet Chili, Tomato Basil and Vanilla Creme Brulee, Chipotle Cheddar, and Sweet and Salty Mix.
You can add variety and whole grains at the same time! You should be able to find most of these flavors at your local grocer and at Walmart.
I'm going to keep working on improving my snack habits - one step at a time. I have no timeline or milestones to hit. I'm just trying to make small changes that lead to a healthier and happier life.
If you've resolved to clean up your eating too - I wish you the best of luck.
Quaker® Quakes® are now Quaker® PoppedTM – a new name for the snack made with the delicious goodness of whole grain brown rice and corn and a great snacking solution.
Reply below for your chance to win a sample of all 14 flavors of Quaker Popped Rice Snacks and $1,000 gift card to help you achieve your New Year's resolutions.
This is a sponsored conversation written by me on behalf of Quaker. I received product in conjunction with this post. The opinions and text are all mine. NO PURCHASE NECESSARY. See
Official Sweepstakes Rules
Tweet