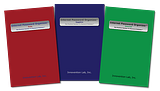 Congratulations to #73 Noelle.
I am one of the most disorganized people I know. When I was a traveling salesperson, my manager once commented that he just couldn't understand how I ever got anything done. Everything I did was chaotic and out-of-order, but somehow it worked out.
I know how I did it.....I was young. Now, without youth on my side, I can see that the Universe is trying to send me a sign. It's time to get your life organized. Enter in the Internet password organizer (and another organization related giveaway coming soon.)
When I was first offered the chance to review the
Internet Password Organizer
, I honestly thought it was something I didn't need. I had a computer and it remembered things for me....right?
Actually, I have a very unreliable computer that has spent many days being repaired. And sometimes, it just doesn't cooperate.
I write myself notes....and then lose those notes. The Internet Password Organizer comes in bright colors, making it a little harder to lose.
Inside, there are over 100 pages for recording website and password information. And each section is alphabetized so entries are easy to find.
I started writing down my passwords and have found it very helpful to be able to reference them quickly and easily.
I feel comfortable putting my everyday website info into this book and leaving it on my desk. Would I put my financial info in a book like this? Yes, but then I would put the book into a safe.
In fact, I wish I would have received 2 for review, because my current financial details are in the safe......on a scribbled up piece of scrap paper. lol
Do you need to organize your Internet Passwords?
One Suburban Jungle reader will receive their own Internet Password Organizer. You can also find them on
Amazon
.
To Enter
-Leave a comment to enter this contest.
Want extra entries?:
This giveaway will end on November 8, 2009 at 9:00PM and a winner will be posted and contacted by email by November 9th.
No compensation was given for this review. I did receive two password organizers; one to review and one to giveaway. This did not sway my opinion.
Tweet