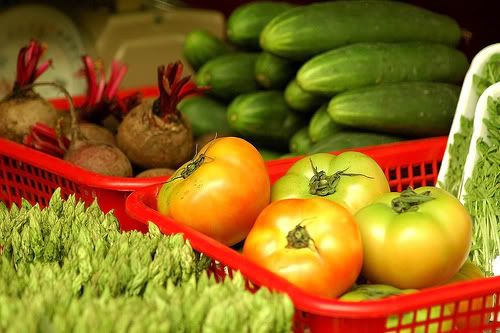 Do you sneak fruits and veggies into your children's diet? I've read a lot about pureeing veggies and adding them to baked goods.
I've sometimes substituted Sweet Potatoes or Applesauce for a certain portion of oil in a recipe, but not with the intent to "hide" anything.
Our motto is: Out in the Open! That's how I get my kids exposed to fruits and veggies. We keep all of our produce (except lettuces) out in the open. Sure, that does make them spoil faster, but that's all the faster we need to eat them!
When my kids are hungry for something, the first thing they see is the produce up on the counter. But that doesn't mean we don't have challenges at dinner time.
For meals, we have 1 simple rule. You may not have seconds or dessert until you've finished your firsts. So they would need to finish their veggie servings before they could have anything else. Sometimes, they choose to eat nothing, but most often they will eat everything so they have a chance to get more of what they really like.
I think it's important for all of us to get used to eating whole fruits and vegetables. But what do you think?
Tweet