Today, I went outside with a scissors to gather some more nature pieces for
my wreath
. I found some great rose hips to add, and then decided to venture back to the garden. I instantly noticed my raspberry bushes bobbing up and down like a fishing pole. I thought it was odd but went back to what I was doing. Then I heard some extreme rustling.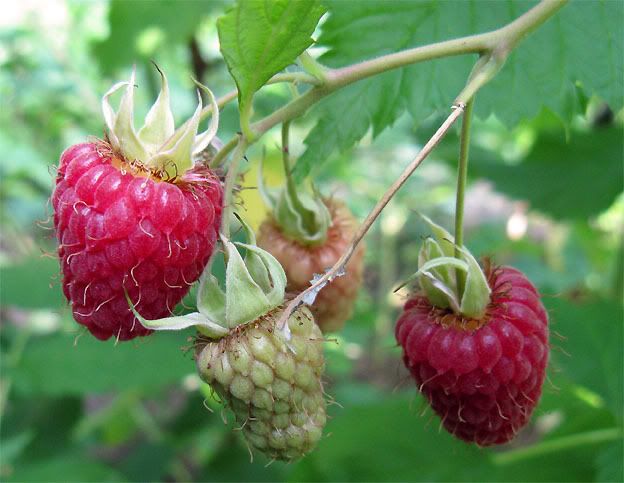 So I went down the hill into the raspberry patch. And there I saw him...
the chipmunk
. He was tangled in the nets. By his neck. At this point, I realized I had a scissors in my pocket. What are the odds that I would have a scissors (and a good one at that) in my pocket in the backyard?
The nets are strong, and meant to keep animals out, so they don't cut easily. I needed to get him out. The irony of my
post yesterday
was not lost on me. I felt like this was a test to see what I would really do. This was my garden robber. The one who gets all my berries and tomatoes.
Would I let him strangle? No. I went right to work trying to cut him loose. As soon as the chipmunk saw me, he went crazy. He twisted and turned and got himself more tangled than ever. I started cutting him free, and worked at getting him away from any of the other nets to stop the retangling.
He had the nets around his neck at least 10 times. And his arms and legs were entirely trapped. He fought me all the way. But I remained calm. I knew this was a life or death situation, that he would bite me if given the chance, and that I was his only hope. I talked to him, telling him to hold still and I wasn't going to hurt him.
Frustrated with me, my son said, "mom, he doesn't understand human talk!" At times I felt like he was trusting me, but I realize he was just losing oxygen. During those moments, I worked hard at his neck. He guarded it from me too much while he was struggling.
I managed to free his neck except for 2 strands of net. Imagine a duck with a soda ring around it's neck....but tighter. Then I freed his legs and arms. And then he took off. I tried to get him so I could get the rest of his neck freed, but it was no use. He was gone.
I can only hope one of his family members will gnaw it off. He may or may not make it, but I sincerely tried my best. If he snags on something, the net may pull off or he may be strangled.
Forgive me for not having any pictures, but if I had any pictures this time it would have meant he died.
I try hard to keep our garden as organic as possible and only use nets to keep birds and animals out of our berries as a barrier. Not a trap. If you remember earlier this summer,
a bird was caught
and something ate half of it's body.
I put the nets up as soon as the berries start to ripen and take them off immediately when they are done. But still these things happen. :(
On a positive note, my children were right there with me. They saw the entire thing. I doubt they listen to me half the time (as evidenced by their toys on the floor) but actions speak louder than words, and I want them to see how much we try to take care of the things that have been entrusted to us.
More important than even the basics of caring for animals, I firmly believe that it's just a small leap from how you treat animals to how you treat people. And I really want them to be caring and loving people.

Tweet